Background
Born and bred in Singapore, PEDRO is a fashion brand owned by Charles & Keith Group. Since 2006, PEDRO has been leading the fashion industry and continuously expanding its business globally. In August 2022, Infolog partnered with Hikrobot to implement the intelligent AMR logistics solution at PEDRO's main warehouse in Singapore, which increased the picking efficiency and accuracy significantly.
---
Challenges
1. Large SKUs and Seasonal Shift
The large SKUs and high storage requirement often pose challenges to businesses in the apparel industry. Over the past 16 years, PEDRO has diversified its product line, which now offers men and women's footwear, bags, belts, wallets, and an array of small leather goods. As PEDRO introduces new collections on a seasonal basis, the warehouse is subjected to rapid inventory turnover.
Infolog WMS digitalizes the storage management processes to handle 44,000+ pieces in the warehouse. Built on the latest algorithm and technology, the WMS is able to optimize and simplify the stock rotation, cycle counting, and inventory management tasks.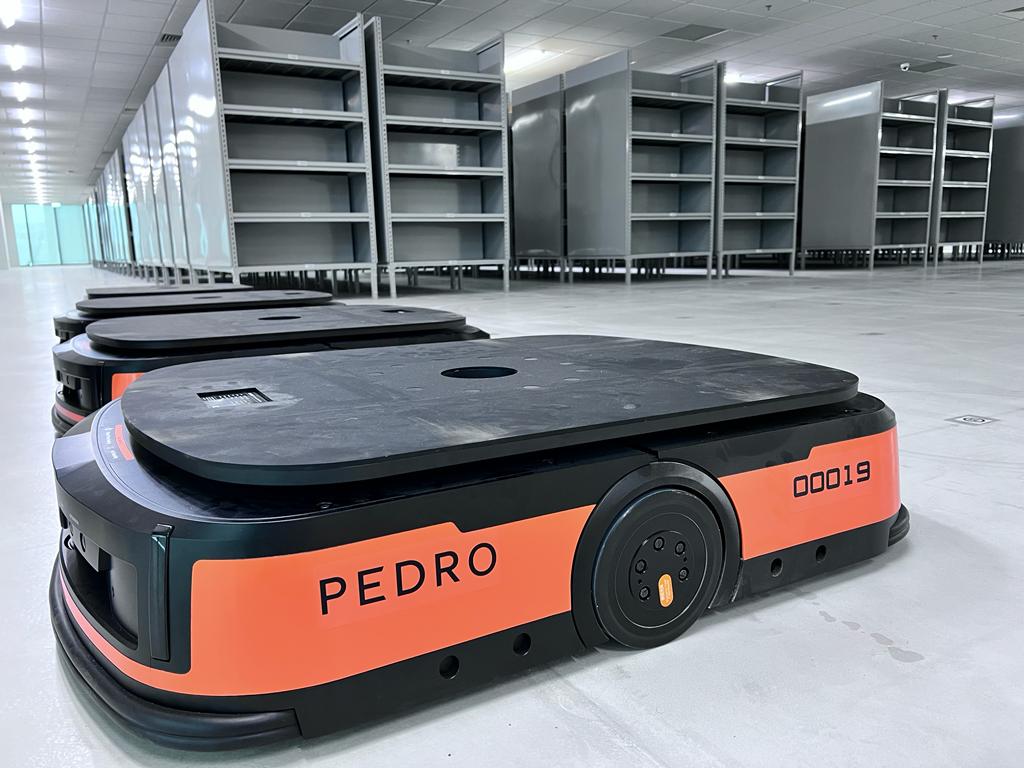 2. High Picking Error Rate and Labor Intensity
In traditional warehouses, the workers need to walk around the warehouse to pick the items from shelves. In addition to labor intensity and time consumption, the error rate in picking is comparatively high and the items are easily misplaced or misrecorded.
With the Goods-to-person solution implemented by Infolog and Hikrobot, the workers no longer need to look for the items in the warehouse but only wait for the robots to transport the racks with target items from storage area to the workstation. The Infolog WMS UI at the workstation displays the items and quantity for outbound. At PEDRO, the picking efficiency has tripled to 300 pcs per hour per workstation and the accuracy has reached 99%.
3. Multi-channel Sales Management
The main warehouse supplies to PEDRO's 11 stores in Singapore as well as the e-commerce orders. The hybrid sales model requires the WMS to manage both B2B and B2C orders efficiently from inbound to outbound.
Infolog's modular automation technology maximizes flexibility and scalability of the solution to meet customers' various expectations and requirements. At PEDRO, Infolog has taken the differences in the outbound and packing procedures for store and online orders into consideration and customized the WMS to facilitate with the existing workflow.
---
Warehouse Automation Solution
Infolog WMS system interfaces with the upper-level Charles & Keith ERP to process orders and manage inventory. Through the integration with the Robot Control System, conveyor system, RF devices, elevator, and Pick To Light, Infolog implemented a comprehensive warehouse automation solution at PEDRO within three months.
→ Implementation in progress
Highlight
Increased productivity by 200%​
Triple labor picking rate up to 300 pcs/hour​/workstation
Reduced labour costs by 40%​
Rapid deployment (3 months)​
Increased picking accuracy to 99.99% ​
94% reduction in workforce turnover through upskilling​
Up to 500% or more improvement in storage density ​
Rapid ROI <2 years payback period​
Lower production accident risk